Somewhere between the words of
Socrates
and the thoughts of Plato lies the profound question of what is 'Just'. Is it defined by laws and men or is it something separate, something ideal? When one is wrongfully imprisoned, for example, is it okay to escape, to break the "law" as it is written? This was the quandary in which Socrates found himself when facing an unfair death sentence.
Of course, we can't be sure which ideas actually belong to
Socrates
or to
Plato
. We only know that
Crito
, the second defense of Socrates, was written after the events took place. Even if Socrates did utter the words contained therein, it was a secondhand account at best. Chronologically though, it follows Socrates' trial as seen in the
Apology
and slots in before his final death in
Phaedo
.
Crito
is actually the shortest of these three dialogues, but that doesn't mean it's the easiest to understand.
In it, Plato attempts to find justice in an unjust action. He wants to reconcile the injustice of his beloved friend's execution with the respect that he has for the city and its laws. Certainly that is no simple feat, and one that some might say Plato did not entirely accomplish.
To understand this dialogue, one first must distinguish between the lower case and upper case words – laws vs. Laws, respectively. The latter represents something much grander than the collective ideas of men or the wisdom of a lawmaker. The Law is an ideal, a form, an entity – personified and perfect. And it's Plato's way out… a method for Socrates to remain good by following what is Just in the concept of the Laws, rather than obeying the evil of his unjust accusers who unethically utilize mere laws to kill him.
We begin the dialogue with Socrates in his cell, his imminent death casting a long shadow on the proceedings. His friend, Crito, has found him asleep and, impressed by his quiet slumber, does not want to wake him up to face his unfortunate reality. When finally Socrates comes to, Crito implores him to escape, employing, at times, astute logic to make his case.
He begins, perhaps, with a selfish point. Should Socrates allow himself to be killed, others will think his friends were not loose enough with their purses to rescue him. Crito makes clear that Socrates need not worry about his friends' welfare or wallets. The provocative philosopher has sufficient benefactors to ensure his escape.
Crito's second argument addresses the injustice of those who accused and sentenced him. By fulfilling their decision, Socrates is acting unjustly. By refusing to escape, he treats himself as his enemies treat him. This, says Crito, is morally wrong.
Lastly, Crito pleads for Socrates to think of his children, who will become orphans if he dies.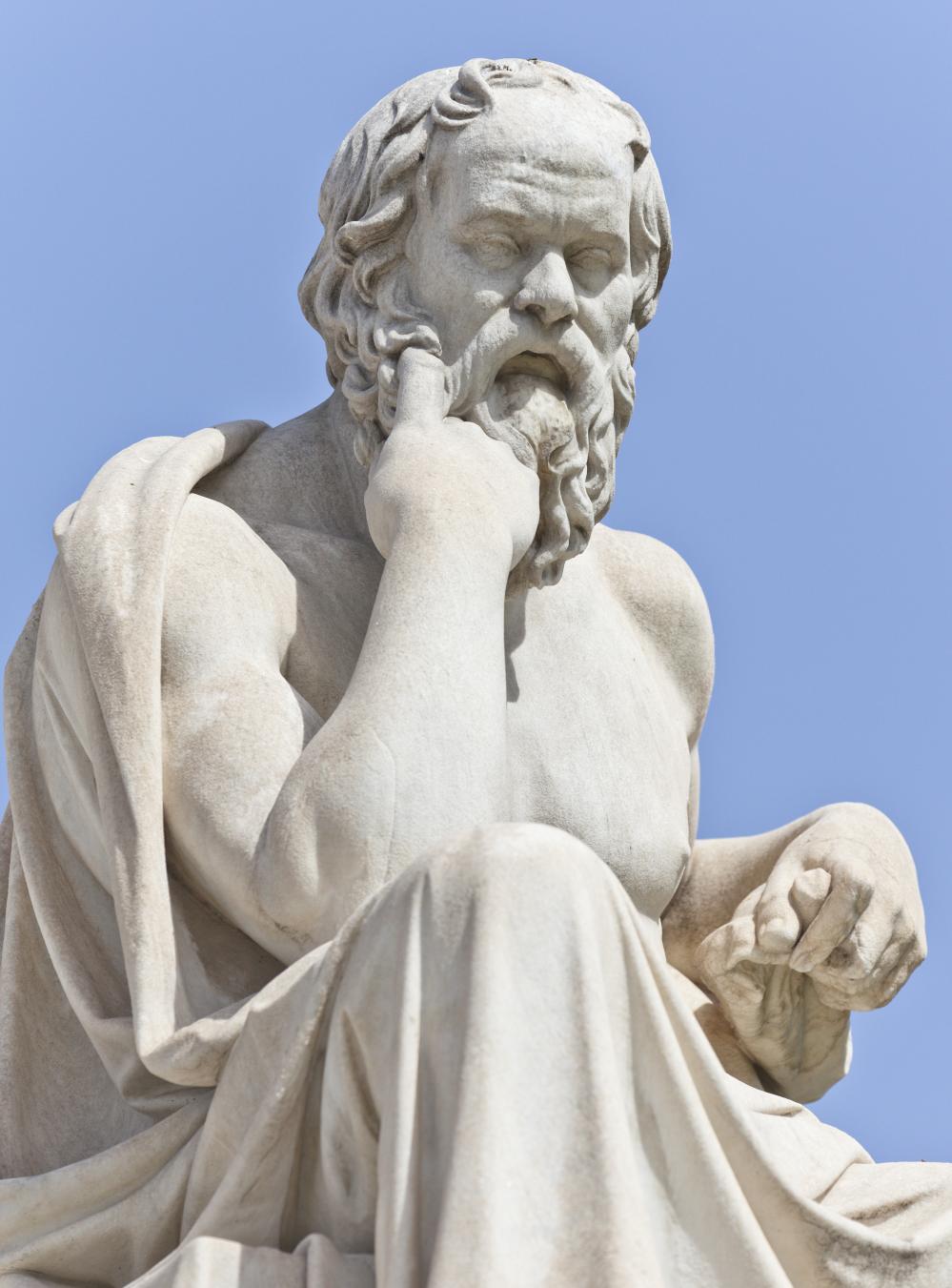 He beseeches: "You appear to me to betray your own sons, who, when it is in your power to rear and educate them, you will abandon, and, so far as you are concerned, they will meet with such a fate as chance brings them, and as is probably, they will meet with such things as orphans are wont to experience in a state of orphanage".
As a philosopher, it is Socrates' aim it to reveal ignorance and inspire knowledge. Would he deny his own progeny his lessons?
Socrates, in turn, counters these arguments with his own. He attacks Crito's concern for public approval, responding that the only opinions that matter, are of those with knowledge. In a swift rebuttal, he states: "what we ought to consider is not so much what people in general will say about us but how we stand with the expert in right and wrong, the one authority, who represents the actual truth."
The matter at hand is not what people will think of Socrates. The real question is: is it Just to escape? Even if his punishment is unjust, he should still not act unrighteously. Here Socrates combats the idea of an '
eye for an eye
', making the point that it is never right to do an injustice, even if you suffered an injury first. Therefore, he won't leave his prison if the departure is proved to be unrighteous.
Crito concedes this point… but it still doesn't address whether escape is Just. To answer this riddle, Socrates conjures the Laws, which confront and question the philosopher.
The Laws take the stance that escape is unjust, for disobeying the rules would, in effect, destroy the Laws and what they stand for. The State is held together by the Laws, and if the latter were to fall into disarray, the former would collapse as well. Therefore, Socrates' illegal departure would be an affront the city-state that reared him. He argues allegiance to the State is more important than one's well being or ties to their family…
Finally Socrates concludes that by living in
Athens
, he has agreed to her Laws. Not only that, he reared his children in the famous city-state and stayed there his whole, long, 70 years of his life. If he didn't agree with the Laws, he could have left at any time, but chose not to.
The fact that the Laws are personified in
Crito
is important for our understanding of the "social compact" as viewed by Socrates. This is not
Rousseau's
famous
social contract
, though it does at first appear that way. In the 18th century concept, the state or sovereign is a direct consequence of the people's general will. Therefore, the social contract is an agreement between citizens to live together under the same laws. For Plato, however, this agreement is not made between citizens. It's made between the individual citizen and the Laws – an entity in and of itself.
For Plato and for Socrates, the Laws are more like the 'forms' – an abstract idea that represents the fundamental essence of a thing. A chair, as we know it, is not just the thing we sit on, that you may be sitting on right now. It is also an idea of something that we sit on. Therefore, we can all look at a chair and say, "Yes, that is chair," having in our minds a form of what a chair is.
In this way the Laws are something greater, purer than laws. The Laws are always Just, according to Socrates, but a law can be unjustly used.
This is how Plato tries to reconcile unjust actions with the innate Justice of the Laws. By acquiescing to the injustice, Socrates upheld the Laws and Justice and therefore, the State built upon them. Failure to do so would have destroyed all the ideals, truths and forms he held dear. This is why Socrates had to die.
–
Socrates Justice – Law and Disorder – Classical Wisdom Weekly was written by Anya Leonard
By Van Bryan
I originally thought of this article idea some time ago. I remember standing in the basement of Strands bookstore and pulling a book off the shelf at random in the history/ philosophy section. It was an introduction to Socratic thought and the life of Socrates.
Sounds good to me.
I remember that in the Foreword the author had,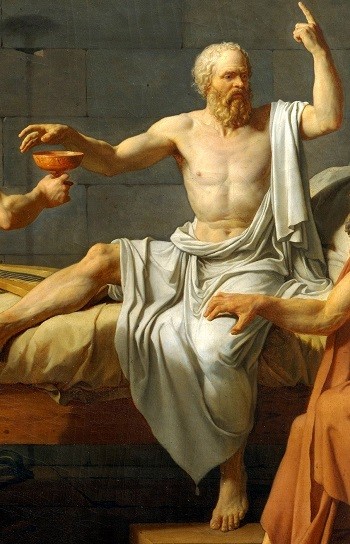 Was Socrates a Prophet?
somewhat capriciously I thought, referred to Socrates as "the Christ of Greece." The author didn't bother to add any real clarification to this statement and I was rather taken aback by the absence of any substantiating evidence. It was as if I was just supposed to accept that statement in the same way I might accept the statement "Dublin is the capital of Ireland." In other words, I got the impression that the author believed such a statement to be demonstrable, unimpeachable; and here I was, some senseless boob who just hadn't gotten the memo.
But you can't just compare Socrates to Christ and then expect everybody to move on from there! At the very least give me a few paragraphs to go off of so I can write a decent article.
The author did not, unfortunately, bring up the topic again, so far as I could tell. And I never bought that book so I don't have the luxury of a second look.
I know that this might turn out to be a rather controversial column. Still, this is a newsletter dedicated to all you classical lovers, and budding classical lovers, so I figure that question is as good as any to discuss in a weekend newsletter. Was Socrates, after all, a prophet?
The word "prophet" comes from the ancient Greek word "profétés" (προφήτης), which is a derivative of pró (before) and phēmí (I tell). In the context of ancient Greece, a prophet would have been someone who, among other things, interpreted the words of the oracles, the holy priestesses who were said to commune with the gods and speak on their behalf.
If this were our sole understanding of a prophet, then there certainly is evidence that Socrates was indeed one. In Plato's Apology, Socrates recounts how the Oracle of Delphi declared him the wisest man in all of Greece. Hoping to make sense of such a claim, Socrates embarks on a quest to find others who are wiser than he.
The Oracle of Delphi, by
John Collier
What follows is Socrates retelling how he had met with various artists, poets and politicians who, while appearing to be wise, knew very little. Moreover, these people did not even know how much they did not know, instead associating their false beliefs with absolute knowledge.
From this, Socrates draws the conclusion that true knowledge is recognition of ignorance. Socrates, like the artists and poets, does not know anything truly and definitively. However, unlike the artists and poets, Socrates recognizes this and is better for it. We see now that Socrates is truly wise because he does not believe he is wise.
While slightly paradoxical, this idea has been championed through the centuries among philosophers. By coming to such a conclusion, Socrates interpreted the words of the oracle and is, at least according to the ancient Greek meaning, a prophet.
However, this is not what we truly mean when we ask if Socrates is a prophet. Instead, our understanding of a "prophet" is probably closer in line with the ancient Hebrew word "navi" (נָבִיא) which traditionally translates to mean a teacher or mentor who is divinely inspired and labors amongst his people to bring them a better understanding of morality, virtue, or to instill in them some divine truth that was otherwise unknown.
And even here, there is some evidence to suggest that Socrates might fit this description.
"Virtue is knowledge", is Socrates' great maxim. He who comes to understand the knowledge that underlies his actions will be better for it. By understanding truly the ideas of "Justice", "Wisdom", "Virtue", and so on, we will be better suited to live according to these axioms and improve ourselves and our souls.
Socrates may very well have been a teacher of righteousness to the Athenians, and we can see that he went about his mission with a burning zeal that could not be quenched even by the prospect of death.
Moreover, Socrates may also have been divinely inspired. Within Plato's Apology, Socrates claims that a heavenly voice speaks to him from time to time and guides him away from wickedness and towards righteousness and philosophical study. This voice, which is commonly known as a "daemon", is the reason Socrates began his philosophical career in the first place. The voice prompted him away from politics and public life and towards a life of contemplation and dialectic.
"This sign I have had ever since I was a child. The sign is a voice which comes to me and always forbids me to do something which I am planning to do, but never commands me to do anything."-Socrates (Plato's Apology)
At this point, it is probably important that we recognize that the story of Socrates is a type of fiction. That isn't to say, however, that it is untrue. The tale of a simple craftsman with a keen mind and an aversion to nonsense who goes about challenging the prevailing paradigm of knowledge and truth, and who is ultimately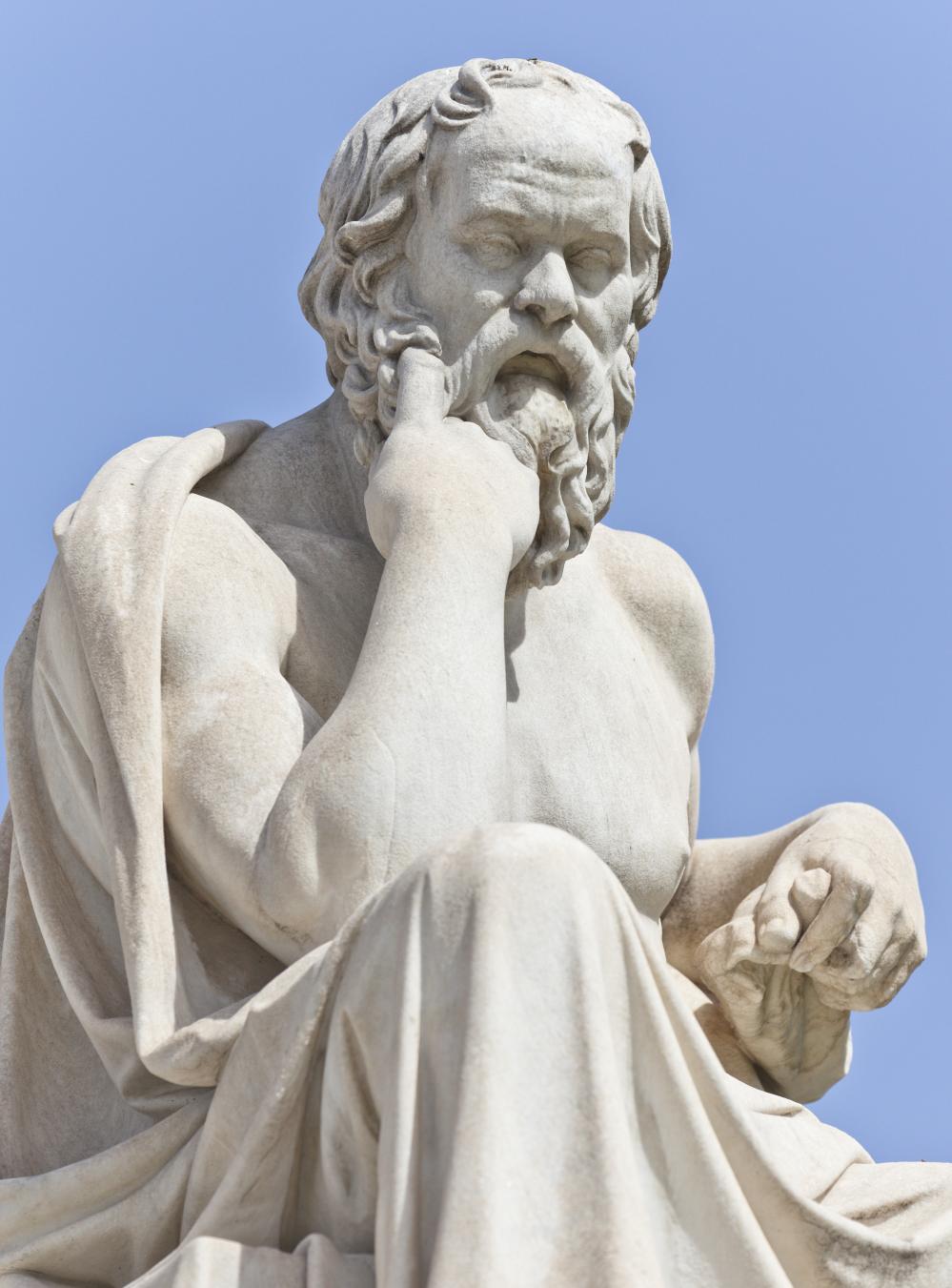 executed for his troublesome nature is all too familiar for us. It's the same story that has been told time and time again in undergraduate philosophy classes and found in the pages of every meaningful piece of philosophical literature since about the fourth century BC.
However, because we become acquainted with Socrates through the works of his students, specifically Plato, there is no way of knowing how much of Socrates the man lines up with Socrates the icon. Within each of Plato's philosophical dialogues, the superior argument invariably ends up in the mouth of Socrates, while the other philosophical combatants, who are thought to represent the prevailing ideas of 5th century Athens, appear shortsighted and flawed to a modern reader.
As a result of this, we tend to scoff at the Athenians who persecuted Socrates. How foolish those ancients must have been to execute such a fine and noble teacher like Socrates! His death takes on a feel of martyrdom and therefore the idea that he might have been a prophet gains credence.
However, what we often do not realize is that Socrates was, in many ways, attempting to undo the mortar of the classical Greek world and topple a cultural paradigm that had, up until this point, created one of the greatest societies the world had ever seen. It is possible then that he was not a prophet at all, but a bona fide threat to the Greek way of life.
What do I mean by this? Tune in next week to continue this discussion and find out for yourself.